The AMASYS integrated biodefense system, including the CFLAPS bioaerosol detector and XMX aerosol sampler technology, is widely fielded around the world among military and government organizations.
The original concepts, in use since the 1990's, have been continuously refined and improved over the years to achieve best-in-class detection and sampling performance.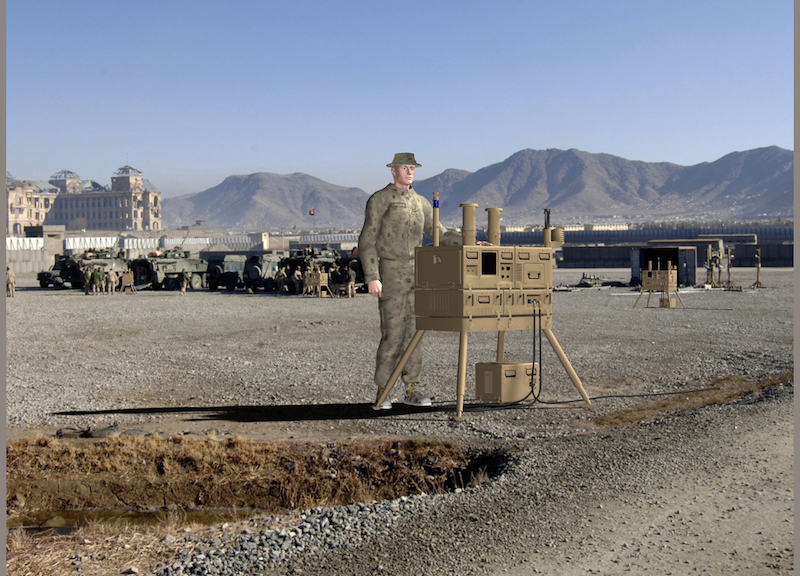 Part of our core competency includes the design and customization of our biodefense system technology to allow for deployment on the widest range of platforms under the most extreme conditions. Custom variants of the CFLAPS and XMX instruments have been integrated into a wide variety of biodefense systems including armored reconnaissance vehicles, naval vessels, mobile laboratories, field trial reference systems, civilian first response vehicles and fixed sentry installations.
Our expertise also includes the design, manufacture, and integration of other components of a complete biodefense system, including third party bioaerosol detectors, automated hand held assay ticket readers, multi-sample aerosol samplers, and integration of other biological identification technologies. Our Software Engineers will integrate each component into a seamless integrated system, providing a graphical user interface in any language, and also providing an interface control document (ICD) for further integration into an end user command and communication system.
AMASYS can adapt and ruggedize our detection and collection systems and tailor them to any installation platform and operating environment to account for custom mounting requirements, and glove box and overpressure installations.
Design to full military ruggedization standards has been provided for numerous customers around the globe.
In particular, system design according to Mil-Std 810, 461, and 1275 allows for survival and operability under extreme conditions, including:
Wide Range Operation and Storage Temperature
Sand and Dust Ingress Protection
Rain and Salt Fog Ingress Protection
EMC Resistance for Emissions and Susceptibility
Shock and Vibration Protection
Power Supply Fault and Transient Protection
Ballistic Protection
As part of the custom integration process, we can also work with the end-user to optimize the detection algorithms for particular operating environments and to balance competing priorities or CONOPS requirements.