Aerosols generated in industrial and environmental applications frequently require an aerosol diluter in order to fully analyze the working parameters of detection, collection and sampling devices. Dilution instrumentation has to be flexible in order to vary the concentration of the aerosol under examination.
Amtech's ADS-A20 aerosol diluter system offers flexible and variable generation, dilution and delivery of aerosols in the 1 to 10 micron range (with Sono-Tek disseminator option) and is easily adapted to test and evaluation equipment.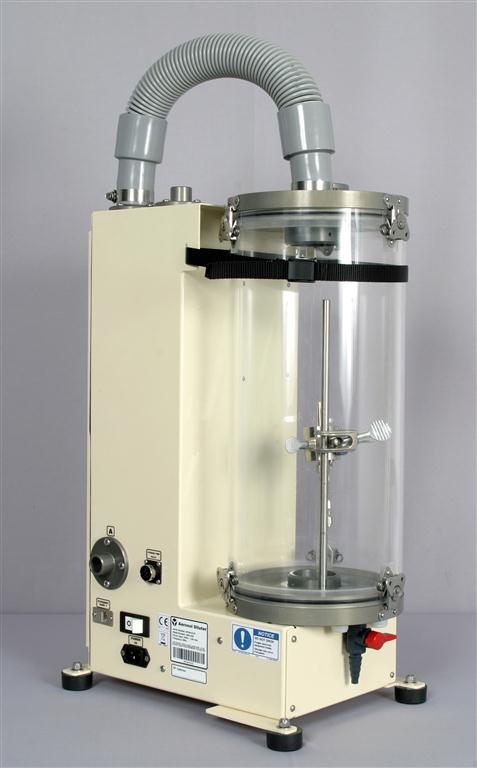 ADS-A20 Aerosol Diluter Features
Compact platform…Easily transported and assembled
Simple operation…Minimal training required
Customizable Flow Rates…Large dynamic range of concentrations
Available with a variety of disseminators…Configures to suit the test protocol
Automated control software…Enhances tests repeatability & throughput
Rugged construction…Enables laboratory or field use
HEPA filtered inlet/waste…Avoids aerosol exposure to environment/personnel
Typical Applications
CBRN related R&D
Industrial and Pharmaceutical R&D
Laboratory trials
Field Test and Evaluation calibration
Principle of Operation
The ADS-A20 aerosol diluter is capable of flexibly generating a large range of aerosol concentrations. In conjunction with the Sono-Tek aerosol disseminator, aerosols with particle sizes in the range of 1 to 10 microns can be generated, diluted and delivered to testing environments.
The ADS-A20 contains an inlet, outlet and exhaust port. The inlet and exhaust air streams are controlled independently by blowers, both of which are HEPA filtered. The resultant aerosol concentration is established by controlling the total flow rate within the diluter chamber and the aerosol dissemination rate. The flow rate of the aerosol through the outlet port is controlled by varying the inlet-to-exhaust flow ratio.
Specifications
ADS-A20 – Aerosol Diluter
| | |
| --- | --- |
| Dimensions (W x H x D) | 28 x 79 x 43 centimeters (11 x 31 x 17 inches) |
| Weight | 14.9 kilograms (33 lbs) |
| Dilution Vessel Volume | 12.3 liters (751 cu. in.) |
| Power Requirements | 100 – 240VAC, 2.8 amps (max), 50/60Hz |
| Communications | 10/100baseT Ethernet (wired) |
| Included Software | LabVIEW executable, Web-based diagnostics interface |
| Minimum PC Requirements | MS Windows XP/Vista, Pentium III 800MHz or equivalent, 128MB RAM, Wired Ethernet port |
| Maximum Inlet / Exhaust Flow | 200 slpm (7.1 scfm) |
| Rated Pressure Differential (Outlet Port to Ambient) | -125 to 0 Pa (-0.5 to 0 in. H20.) |
| Temperature Range | 0 to 30°C (32 to 86F) |
| Humidity | 5 to 90%, non-condensing |
| Approvals | CE Marking, Special Inspection CSA/UL |
ADS-A20 Aerosol Diluter with Sono-Tek Disseminator Option
| | |
| --- | --- |
| Particle Size | 1 to 10 microns |
| Liquid Dissemination Volume | 2 x 60 mL (2 oz) syringes |
| Dissemination Rate | 240 to 2400 Microliters per minute |